According to Statista, we spend five to six hours every day on our phones. How much of this time do you think we spend surfing the world wide web?
You guessed it, a lot. 
Almost 3/4 of the average person's internet time is spent on mobile. If you're looking to capture your portion of this massive mobile market, you've landed in the right corner of the internet. 
In this guide, we'll look at what mobile advertising is, which platforms are the most popular, and − more importantly − how mobile ads can help you grow your business. Make sure you read on because we'll also be sharing how our powerful Social Media Ads tool can help you dominate the world of mobile advertising.
Buckle up! 
What is Mobile Advertising & How Does it Work? 
What is mobile advertising? Mobile advertising entails the creation of ads for mobile devices, like smartphones and tablets. And if it isn't already an integral part of your marketing strategy, it surely will be by the end of this guide. 
Your potential customers rely more and more each day on their mobile devices to fulfill any task at hand. Companies who choose to place their ads on mobile are one step closer to their customers, as these companies meet their customers right in the palm of their hands. 
Mobile advertising works very differently from traditional advertisements that run on the radio, TV, or newspapers for anyone to hear, watch, and read. Mobile advertising allows marketers to customize the format, content, and targeting of those ads to reach a very specific audience. Furthermore, content can even be customized to reflect the target audience's browsing preferences and buying habits. 
It doesn't get much more specific than that.
What Formats of Mobile Advertising Are There?
Mobile advertising only works if we understand that mobile users' search intent is significantly different from that of desktop users. In fact, the vast majority of those who perform a mobile Google search is more likely to make a purchase compared to desktop users and that is because mobile searches come with stronger purchase intent. 
The best-performing digital marketers tap into that difference and create ad campaigns that outperform the competition. But what formats do they use?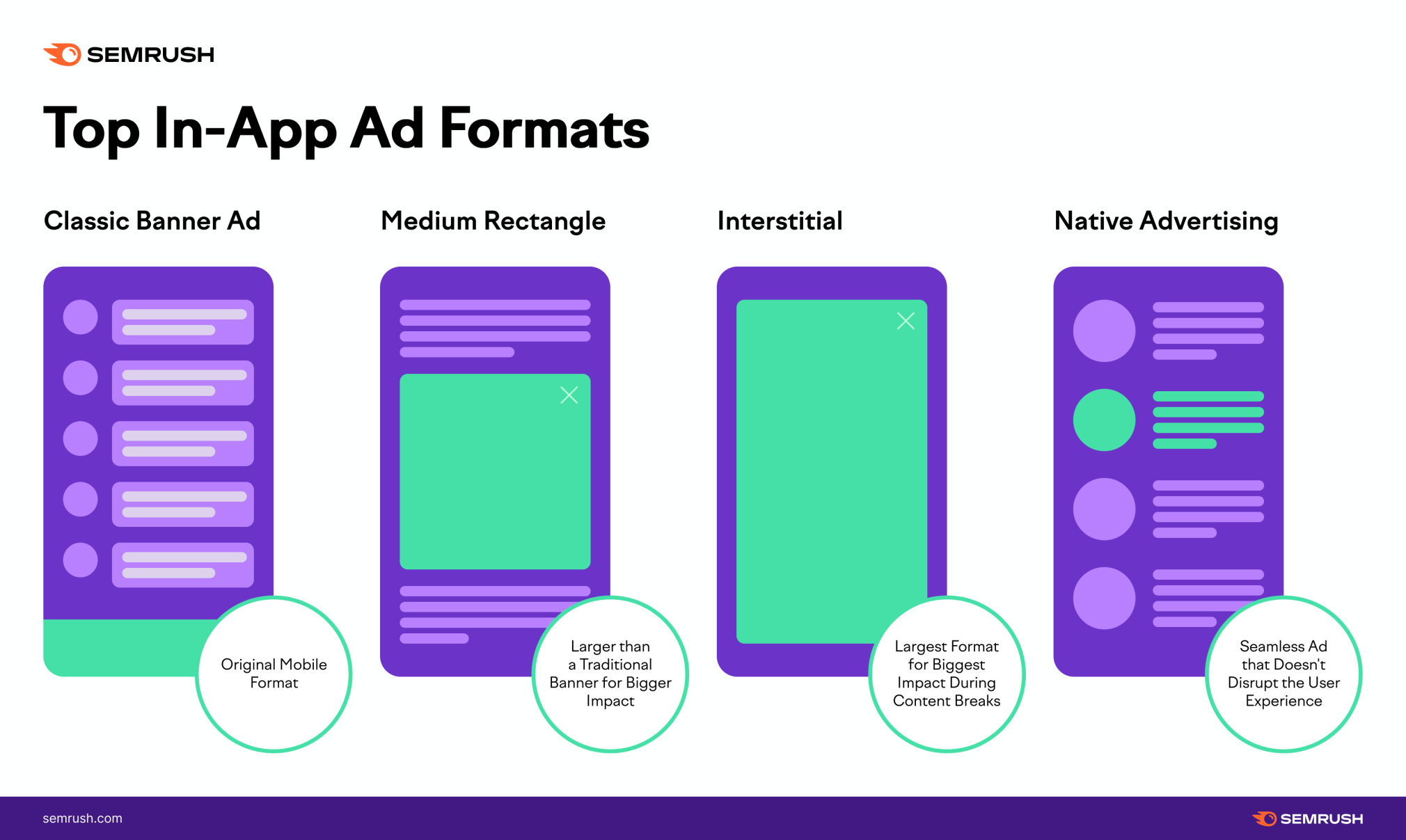 Companies' advertisements on mobile devices can vary quite a bit. In general, we can distinguish these macro-categories:
Mobile Web Ads
The main difference between these and the traditional desktop format is that mobile ads are optimized for smartphone and tablet screens, but not much else is changed. Engagement with this format is much lower than other mobile ads.
In-app Ads
These ads are displayed directly in an app's interface. As the vast majority of today's smartphone users spend most of their time browsing apps, this is the core advertising channel for modern marketers. These ads usually pause an app's activity with visuals that occupy the full screen.
Native Ads
While the average in-app ads can annoy some users, as they interrupt the natural flow of using an app, native ads blend in with the rest of the content. It takes some skill to produce them, so they're only used widely by big players like Facebook. 
Most importantly, native ads have to deliver added value to the user and show ad marks to avoid being deceitful.
Banner Ads
Banners are simple images placed along with other content, linking to a product or service. Banners used to be very effective when the heavy lifting in online marketing was done on PC – their effectiveness on mobile is much lower though.
Interstitial Ads
These are full-screen and interactive ads that cover the app's interface. They pop up during natural pauses in the app's activity, for example after finishing a video or completing a game of solitaire and Candy Crush.
Video Ads
Video ads are currently the most widely used mobile advertising format. The trend in the last years has seen a consistent shift towards more and more video content, as the video ad format is highly engaging and way more effective than other ad formats.
Playable Ads
Also known simply as playables, these are highly engaging interactive ads. These ads allow users to test an app before downloading, they're often game demos featured with only the app's essentials so that users click on them to continue the gameplay experience. 
What Are the Most Popular Platforms for Mobile Advertising?
In order to strategically invest ad spend for a successful mobile advertising campaign, it's important to know the tools you're working with. 
Before revealing all our tips and strategies for creating mobile ads that will turn a bigger profit, let's have a look at which platforms provide the best ROI for mobile ads and who their user base is.
In the Social Media Ads tool, you'll find a report with an overview of your active ads on the platforms you use. Here, you can monitor what your audience does and optimize your next ad spend.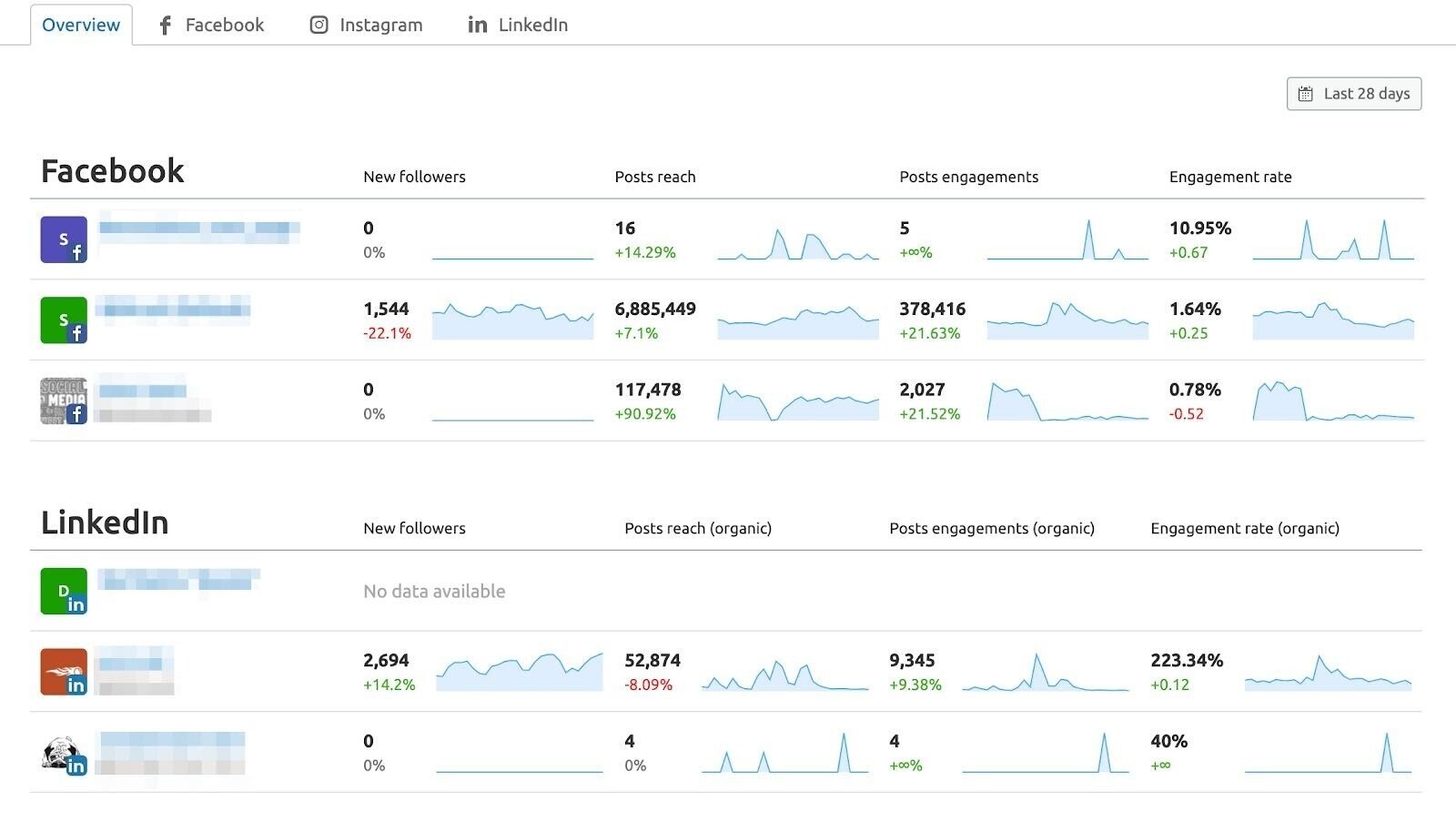 When looking at your analytics, be sure to consider the full picture. Every platform has its niche, LinkedIn is a network to connect professionals, Instagram is a hub of influencers and visually impactful brands, etc. But that's not all. 
Facebook ads, for example, appear in many different places. If you notice that a good amount of your hits came from mobile, then you have one more reason to run mobile ads on Facebook. In the end, it all comes down to your business and the needs of your customers.
Let's look at each platform in more detail.
Google Mobile Search Ads
The number one reason why you should invest in mobile ads on Google is that when a user searches for something on their phone, they generally have an urgent need. In particular, according to Google's latest data, satisfying immediacy is more important than loyalty, as smartphone users expect immediate answers to a need. 
Mobile searches for "[store] near me" have grown over 250% in the last few years. 
In that sense, users on Google mobile are in the best mental space to make a purchase and that makes your ads more profitable. However, this is true for you and your competition. 
If you set up your ad campaign with automatic bidding and minimal targeting, it's not likely that you'll get a high return on your ad spend. In our guide to Google Ads, we advise you on how to create the perfect ad copy that:
Matches the user's sense of urgency with a direct and clear call-to-action
Uses ad customizers to tailor the message to your audience ( 67% of mobile users are more likely to make a purchase if the mobile sites or apps are customized for their location)
Uses mobile-specific app extensions
Please note: In order to make the most of the budget you spend on mobile advertising, a website optimized for mobile is essential. Up to 51% of mobile users prefer using the company's website or app to a brick-and-stone shop.
If you're crafting ads for Google, we have developed the perfect tools to assist you. 
We recommend our Advertising Research tool to analyze your competitor's campaigns and get access to some behind-the-scenes data, like which ads point to which landing page on their website and so on. You can also download the report, just make sure to choose 'mobile' in the Device filter when you do so. 
Regarding the setup of a mobile ad itself, it doesn't work that much differently from ads for desktop.

Entering a competitor's domain in Advertising Research is a great place to start. You'll get an overview of your competitor's ad positions, their paid search trends, and more.
The Ad Copies report specifically (shown above) allows you to search for a keyword and view relevant ads from that specific domain
You can learn from these and create your own ad copy. Once the campaign is created, the ads will automatically run on all possible devices (desktop and mobile).
Facebook and Instagram Mobile Ads
Of the 2.8 billion monthly active users on Facebook, 81% of them access the app only via mobile. Facebook's user base is by far one of the biggest social networks out there because it also includes Instagram. This makes it very convenient to choose Facebook as a platform for your ads, as they will appear on both platforms, maximizing the value of your ad spend.
However, businesses do not benefit the same way from the same platform. Instagram, unlike Facebook and Twitter, started as and remains an image-first social media platform, more suited for a younger audience. 
Users on Instagram think in terms of image posts, visual stories, or Instagram Live video feeds. In other words, while videos and images are powerful tools to make your Facebook ads more engaging, they are literally the only type of ad that you can make on Instagram.
That being said, if you have a strong brand image, Instagram should be a no-brainer. But is it worth it to have a presence on Instagram even if your business doesn't rely so heavily on visuals? 
The short answer is yes. 
These days, an Instagram profile functions as a business card. Most users decide whether or not to make a purchase based on said profile. 
In terms of ad formats, Instagram is a mobile-first platform, so all ads are created with mobile users in mind. 
Why Should You Run Ads on Facebook and Instagram
Whichever of these two platforms you choose to prioritize, it is important to mention that Facebook's targeting options are unmatched. You can get very specific with your targeting and run different mobile ads for different kinds of audiences.
That's why, when investing in mobile advertising, you should consider running your ads on both Instagram and Facebook.
If this sounds like too much work, no worries: we got you covered.
How to Run Ads on Facebook and Instagram
With our Social Media Toolkit, you'll be able to create high-quality ads, schedule posts, and monitor their performance at the same time on Facebook, Instagram, FB Messenger, and FB Audience Network.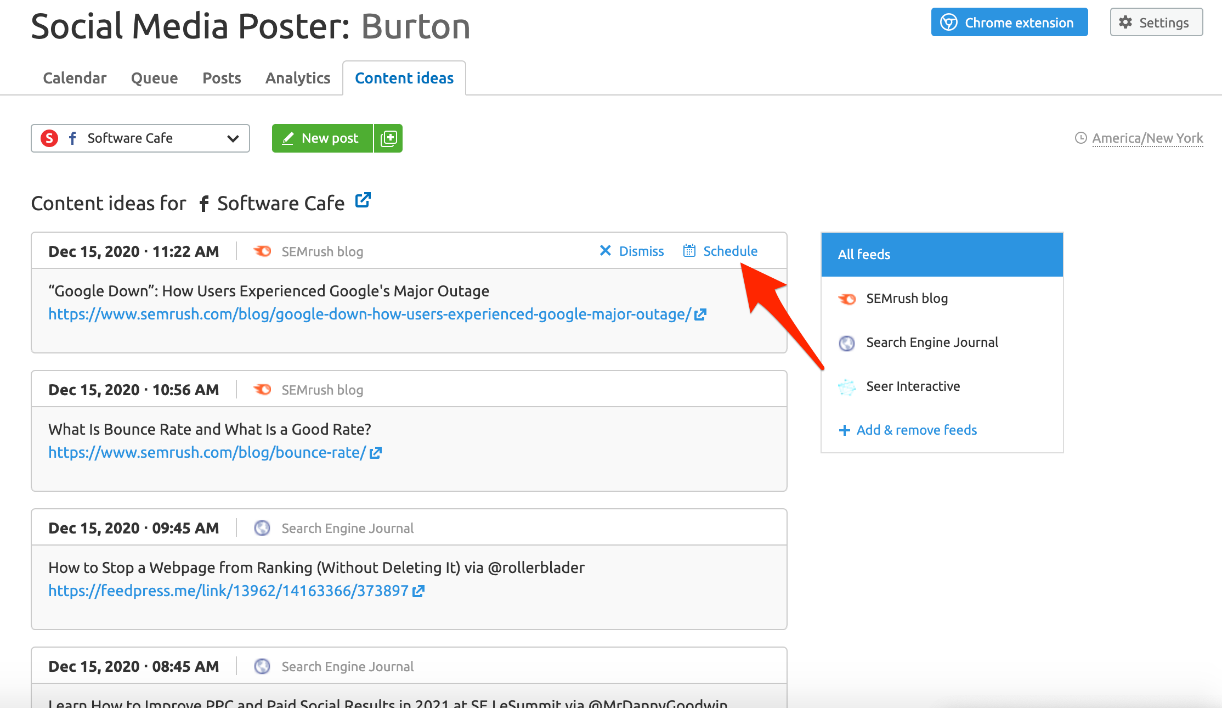 The tool shows you the up-to-date status of each ad (In Review, Active, Rejected, or Finished), making it very easy for you to check under-performing ads and fix the issues that caused any ads to be rejected.

And if you want to keep your competition in check, the Social Media Tracker allows you to compare your performance to others: you can track followers, activity, and engagement.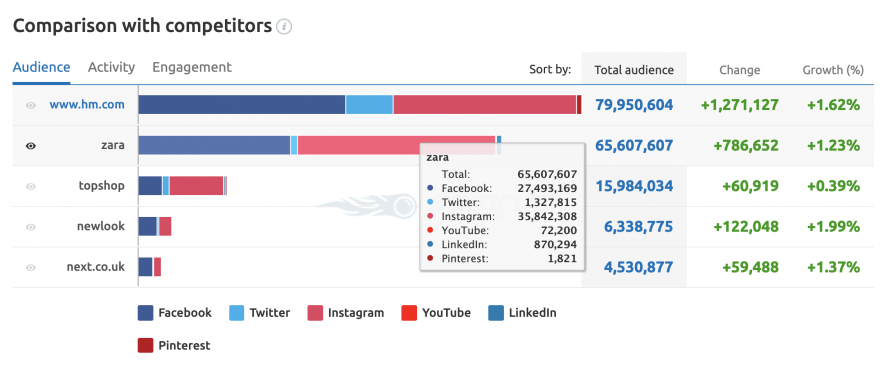 Create & Manage Ad Campaigns
with the Social Media Ad Manager
LinkedIn Mobile Ads 
If you're working with B2B marketing, one smart next step in your mobile advertising roadmap is LinkedIn. The reason being that users on LinkedIn are not distracted by family and friends contacting them through FB messenger: the crowd on the platform is made up of professionals looking to foster work-related connections.
In short, targeting on LinkedIn is easier than on Facebook; however, this does come at a cost. When creating a new campaign, LinkedIn suggests $25 for new advertisers and $50-100 for existing advertisers. This is much higher than Facebook's minimum bid. 
In terms of what ad format we recommend, LinkedIn video ads are particularly engaging but a sponsored content ad with a carousel gives good results as well.
Twitter Mobile Ads 
If you're already advertising on Twitter, you already know that the biggest part of your audience accesses Twitter on mobile (or tablet). That's because, by its very nature, Twitter is a mobile-only kind of platform.
You can advertise on Twitter via promoted tweets and reach an audience that is very likely to engage with your business and, therefore, highly monetizable. According to Statista, we're looking at 37 million users active daily and ready to be monetized, in the US alone.
Another great feature of mobile advertising on Twitter is the level of transparency offered by the platform. Twitter's Transparency Center lets you see all your ads, including those that were reported by users and consequently taken down. 
Please note: The top-performing ads on Twitter are videos. These perform much better than any other format of a promoted tweet. 
Lastly, don't forget to select your target audience for each ad to make the most of your ad spend.
How Do Advertisers Select the Right Platform for Their Mobile Ads?
The best mobile ad platforms all share similar traits: advanced analytics, a global audience, and, of course, mobile support. 
A big differentiating factor is played by the ad format inventory of each platform: in-app ads, display ads, static interstitial ads, etc. But even more important than ad format are all the targeting options offered by the platform. 
Without control over who actually views your ad and their engagement with the ad, it's very difficult to optimize your mobile advertising strategy and increase your ROI. In fact, we'd go so far as to say that the most important criteria when choosing the right ad platform is identifying who your buyer persona is and tailoring the ad copy according to their wants and needs. 
In short, if you're considering possible mobile advertising platforms, it might be useful to find an answer to the following questions:
On which platform does your audience spend their time?
What devices do they use: smartphone or tablet? 
How do they search for answers to their needs?
How can your products best solve for those needs?
Which ad format works best for them?
Once you find an answer to all (or most of) these questions, then keep this handy summary in mind: